The 2021 Subaru Love Promise Community Commitment Award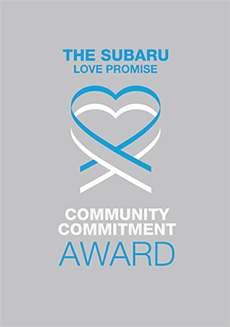 We've been nationally recognized for our dedication to our community and the Subaru Love Promise.
We're honored to receive the 2021 Subaru Love Promise Community Commitment Award. This award nationally recognizes Subaru retailers who are making the world a better place while demonstrating an outstanding commitment to supporting passions and causes in local communities. These efforts are focused in important areas such as the environment, community, health, education, and pets.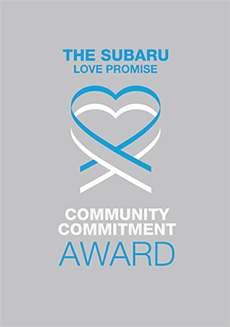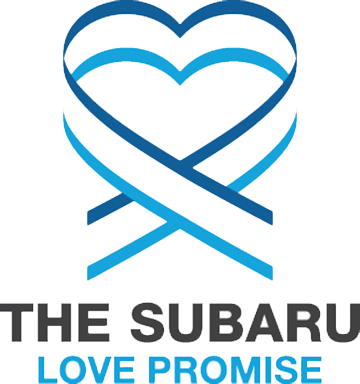 What is the Subaru Love Promise?
Subaru and our retailers believe in making the world a better place and the Subaru Love Promise is our vision of respecting all people. This is our commitment to show love and respect to our customers and to work to make a positive impact in the world.
How is Subaru of San Bernardino dedicated locally to the Love Promise?
Our Love Promise can be seen in various partnerships with local charities and non-profits. We're grateful for the opportunity, not only to be a part of our community, but to serve it as well.
BLOOD BANK OF SAN BERNARDINO
Love Promise Stories from Subaru of San Bernardino
Subaru and Subaru of San Bernardino believe in making a positive impact on the communities in which we live and work. We uphold that belief through our Love Promise Community Commitment. Every month, we select inspiring stories from customers and partners from around our area who strive to support our collective commitment and feature them here
Local Food Bank Volunteer Day - Sonia C
As part of the Subaru Love Promise General Manager- Mike Salas of Subaru of San Bernardino and other Executive Managers from surrounding Subaru Retailers partnered with Feed America and donated their time to giving back to the community by volunteering at a local food bank. On this day, Mike and other executive level managers were able to prepare 1,575 Food Kits that will help to feed over 6,300 families in the local community. This is what the Subaru Love Promise is all about, giving back to the communities in which we live and serve.
---
Boys and Girls Club of the Mountain Communities - Dennis P
Subaru of San Bernardino donated $52,762 to the Mountain Communities Boys and Girls Club. Subaru of San Bernardino has been a constant supporter of our organization and without their assistance our ability to serve the kid's and their families would have really been negatively affected. Your support will help us get back to whatever the new normal will become. The Boys & Girls Club of the Mountain Communities works hard to help provide the tools for its members to have a successful life. Most members share about their home life as they grow to trust the program leaders and aides. Increasing unemployment, a lack of parenting skills, drug use and the growing incidence of homelessness all affect many of the children we serve each day, having a profound effect on their ability to cope with school and social interaction. https://mountain-news.com/news/40461/subaru-of-san-bernardino-donates-52762/
---
REDLANDS HIGH SCHOOL BASEBALL - Zachary A
Mike Salas GM for Subaru of San Bernardino recently learned that Redlands High School does not receive school or district funding for their sports programs. Subaru of San Bernardino believes that every child needs a place to go and do what they love. The funds donated to Redlands High School will help maintain and repair the baseball fields, equipment, and pay for coaches' stipends. Subaru of San Bernardino is happy to help and support local schools and sport programs.
---
Joining Together - Sonia C
Eta Phi Beta Gamma Omega sorority joined Subaru of San Bernardino and donated to the Spark of Love Toy Drive this year. It was a different year for so many. We are grateful that the sorority sisters made it happen. It is important to join together to help our community during this holiday season.
---
Subaru Shares The Love With Operation Grace - Jenai M
In November of 2020 Subaru of San Bernardino, gave Operation Grace a big surprise! Our Women And Children's Shelter had just been renovated and we needed supplies. Subaru came through for us and donated much needed blankets to give to our women and children. It was an amazing act of love. Many thanks to Mike, the General Manager, Sonja who coordinated the love and to the volunteers who rolled up their sleeves and came along to deliver them to us. Operation Grace guides families in crisis to housing solutions with our emergency shelter and housing assistance programs. Our women's shelter serves single women and women with children who are homeless. By the time our families leave the shelter they have done a lot of work improving their lives, obtaining employment, saving money and getting ready for their own place. They receive move in assistance and all the wonderful brand-new home supplies that people have donated to help with the next half of their journey. We are happy to say that our families will be snuggling up with Subaru love when they settle in. Thank you on behalf of our staff and volunteers for your generosity. Jessica Alexander – Chief Executive Officer, Operation Grace
---
Subaru Loves to Help CAPSBC and Our Communities! - Xiomara H
On September 16, 2020, Community Action Partnership of San Bernardino County (CAPSBC) received a $1,500 donation from Subaru of San Bernardino to help support our mission of "Helping People, Changing Lives." This donation will help support the agency's efforts to continue providing vital services such as food resources to low-income individuals and families throughout San Bernardino County. Since 1965, CAPSBC has been developing and implementing programs that address the most crucial needs of low-income residents in the county. The agency's core programs include the Energy, Education and Environmental Services, Family Development, and the Food Bank. Our Food Bank is the largest provider of emergency food in San Bernardino County with a mission to combat hunger and malnutrition by distributing healthy food to people in need. During the COVID-19 pandemic, we have ramped up our Food Bank operations because that is where we have seen the highest increase in demand for services. The pandemic has affected every person, and traditionally stable households who have not previously experienced food insecurity are seeking help for the first time. As part of CAPSBC's COVID-19 Response, for the period of March 1, 2020 through August 31, 2020, our Food Bank Program has assisted 239,065 households with food assistance. The total number of individuals served within those households total over 1.2 million. The program has distributed over 8,263,901 pounds of food during this reporting period to alleviate food insecurity in our county. "We are deeply grateful to Subaru of San Bernardino for your generous donation to our organization. This year, CAPSBC is proud to celebrate 55 years of providing essential services to our low-income residents struggling to make ends meet. It is only through the generosity and concern of individuals and organizations such as yours that make our mission possible. Thank you for your trust in our organization and commitment to making a difference for our communities during these difficult times. We are truly honored to be a recipient of the donation and will ensure it is used for its intended purpose." ~ Patricia Nickols-Butler, CAPSBC President & Chief Executive Officer
---
Subaru of San Bernardino Share the Love Event - Cliff C
Cliff Cummings, owner of Subaru of San Bernardino, recently presented the Boys & Girls Club of the Mountain Communities a check for $56,609.44, the proceeds of Subaru of San Bernardino's 2019 Share the Love campaign. Mike Salas, General Manager of Subaru of San Bernardino has been with Subaru since June 2018. He could not be more honored to participate and give back to such a great organization. The San Bernardino Sun published an article In June 2020 regarding the campaign. https://www.sbsun.com/2020/06/04/boys-girls-club-of-the-mountain-communities-receives-56609-donation/
---
Subaru Loves Learning Book Delivery - Principal John G
Subaru of San Bernardino delivered 5 large boxes of Science books to our partner school Wrightwood Elementary School in Wrightwood California on October 16,2019. Principal John Garner and a few students with HAPPY the mascot were HAPPY to receive these great science books. Subaru strives to fuel the next generation of innovators by making science accessible. When we LOVE THEY LEARN! American Association for the Advancement of Science (AAAS) nurtures students scientific interests and talents. AAAS programs provide exciting opportunities and help build bridges to careers in science,technology,engineering, and mathematics. Thank you for partnering with us to make this a great event for Wrightwood Elementary and Subaru of San Bernardino.
---
Loma Linda University Children's Hospital 2019 - Samantha V
On Monday June 17th, Subaru of San Bernardino partnered up with The Leukemia & Lymphoma Society (LLS) Orange County Inland Empire to deliver 80 blankets to Loma Linda University Children's Hospital. Jane from Subaru and her colleagues along with LLS staff Samantha had the opportunity to hand deliver to approximately 15 children who were accompanied by their parents as they received treatment. The smiles on the children's faces was priceless as they received their blanket to keep warm during treatments. This incredible act of generosity was warmly received by the hospital staff who will distribute the remaining blankets to incoming patients. The staff was thrilled to receive these comforting gifts for patients again this year. They love to be a part of our Subaru Loves To Care partnership between Subaru and LLS.
---
Share the Love Event - Tracylyn S
Every year, we join hands with our owners in the "Share the Love" event, giving back to our community - a community that's given so much to us. Every day we strive to ensure our love is felt not just by our customers, but by all in our community. We do this because we feel it is the right thing to do. We are proud to participate in the Love Promise Community Commitment. We're grateful, not only to be a part of our community but to serve and support the causes and passions that are closest to our hearts, right here in our neighborhood. This year we were able to donate $23,352 to The Mountain Communities Boys & Girls Club.
---